Master storyteller Robert Muchamore returns with his first stand-alone novel with his new publisher Hot Key Books on Thursday 6 September 2018.
KILLER T is explosive, defiant and deadly.
Set in Las Vegas in the very near future and spanning 10 years, KILLER T is an unsentimental rollercoaster of human resilience and the powerful love story of two teenagers.
Harry is an investigative journalist in the making, and a Brit out of water. Charlie is an unlikely friend – she is a super strong, super clever scientist in the making, who's wanted for mixing a batch of explosives that blows up their high school quarterback.
That moment triggers their epic journey together in a society that's shifting fast as gene-modding technology starts to explode.
In the wrong hands, underground gene editing is the greatest genocide threat in human history as terrorists unleash the synthetic mutant virus KILLER T, holding the world to ransom and wrecking the global economy...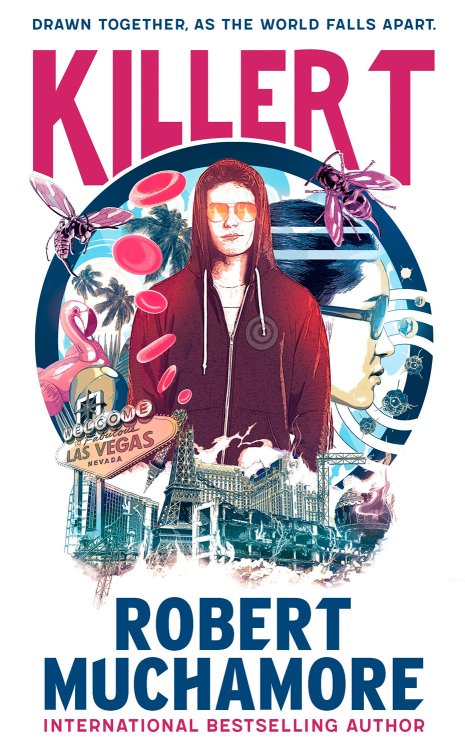 Muchamore's characters are real, troubled and loveable, immediately flying off the page as their new world comes to life – KILLER T is a world of checkpoints, genetically modified purple wasps with fatal stings, illegal cheap garage labs to tweak a few genes for a year-round tan or become a champion athlete, quarantine, genetically-enhanced criminal gangs, law enforcement, starvation and fake news.
Always grounding his work in reality Muchamore penned KILLER T whilst staying in Las Vegas. YA Author Robert Muchamore's career took off as soon as his first book was banned in school libraries – and has since sold 13.5 million books in 13.5 years!
Muchamore continues to break all the YA literary rules with KILLER T, by also penning the novel for his very first fans, now in their mid-20s who grew up with 10 years of CHERUB. A definite nod to those fans as the characters in KILLER T – grow up too.
First time children's cover artist Chris Malborn AKA Melbs has used his unconventional filmic approach for KILLER T.
KILLER T – It Could Happen…
---
Download photography of Robert Muchamore, wasps and front cover of KILLER T here...
---
KILLER T coming to a book shop near you on Thursday 6 September 2018.

KILLER T by Robert Muchamore
Price: £12.99
ISBN: 9781471407178
E-book: 9781471407185
Age range: 12+
Binding: Hardback   Extent: 416 pages
www.muchamore.com
@robertmuchamore
About Bonnier Publishing
Bonnier Publishing is the fastest-growing major book publisher in the world with group sales of £128m. Inspired by the aim to 'publish for everyone', the group creates entertaining content across all genres, formats and price points. It is ultimately owned by Bonnier Books, a top 15 world publisher with global sales of £650m.
—
For further information please contact:
Deborah Goodman at DGPR
+44 (0)20 8959 9980
publicity@dgpr.co.uk