The new 50th anniversary production of HAIR, the iconic rock musical runs at London's fully immersive Off-West-End theatre, The Vaults, from Wednesday 4 October 2017 and is now to run to Saturday 13 January 2018...
The genuinely youthful cast will bring the original protest musical to life, in the intimate theatre seating just 200, revealing every emotion up close and personal through HAIR's drug fuelled journey.
HAIR changed the face of musical theatre and is still ground-breaking at the age of 50. HAIR opened off-Broadway in 1967, and to open this new production off-West-End in 2017 is the perfect move for Hope Mill Theatre's acclaimed production, directed by Jonathan O'Boyle — as relevant now as it was in the 60s.
1967 and HAIR's hippie-hood youngsters live as The Tribe, in the East Village of New York: yearning to change the world, questioning authority and the American flag. They are wild, colourful, free, sexually liberated beautiful people who join in protest and song — under the shadow of the Vietnam War. Featuring classic hit songs: Aquarius, Let the Sun Shine In and Good Morning Star Shine — and the story of youth and war still resounds throughout the world making this a topical musical for the millennial generation. 2017 vividly sees the world protesting and marching, fighting for freedom of speech; from Trump to Brexit via Syria – the core spirit of HAIR.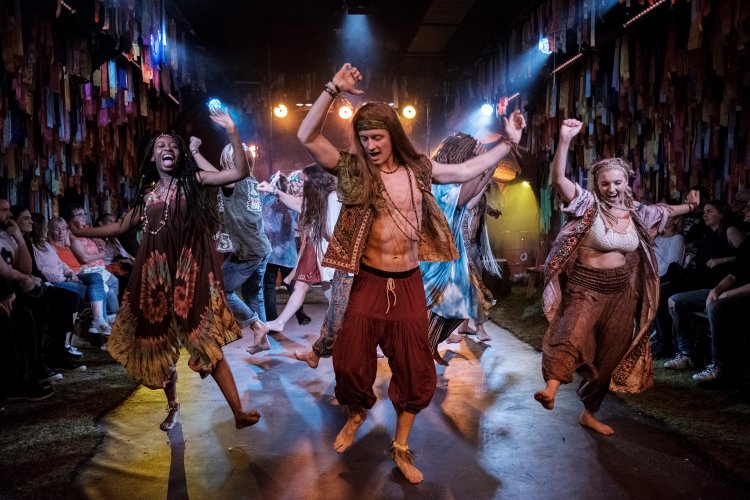 Like a mini Woodstock, from the moment the audience arrive, The Vaults is transformed into a fully immersive 60s venue, with psychedelic, innovative creatives and hippie flower power, 60s themed drinks and snacks – everything needed for a legal high. The audience then move through to the seated theatre space for HAIR — the musical that changed the face of the modern musical.
85 year old Tony and Grammy Award winning writer/lyricist of HAIR, James Rado has penned some exclusive topical lyrics for this new 50th anniversary production including a line for Berger in his number Be In:
Keep America strong.
Make America stronger.
May God bring our nation victory
A thinly veiled reference to Trump.
And new lyrics in Sheila's Easy to be Hard:
from
And don't you wonder how long we can take it
The way that we play and make fun of each other
to
I'm readin' the headlines, the world bloody brutal
The terrible torture, the horrible warfare
—
For further information
please contact: Deborah Goodman at DGPR
+44 (0)20 8959 9980
publicity@dgpr.co.uk